The Black Death
---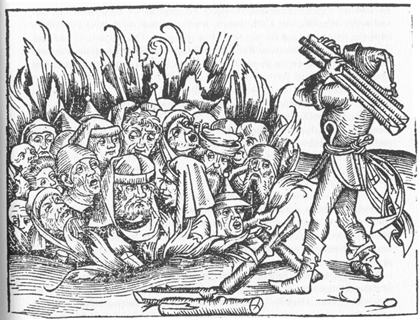 Burning of Jews (German woodcut, 1493)
---
---
More Cunning than Man: A Social History of Rats and Men (1983)

Plague came from poisonous clouds or miasmas arising from the earth, some said. Conjunctions of the planets, volcanic eruptions, earthquakes and comets were blamed. . . . Dogs and cats (but never rats) were killed for spreading the plague. Drunkards, gravediggers, strangers from other countries, beggars, cripples, gypsies, lepers, and Jews were all tortured and killed. . . . Jews were tortured into confessing that they had poisoned wells or performed black magic. There was no escape. . . . .

No society suffering a loss of one-third of its population could function effectively. . . . So it was in the world of the Black Death. The foundations of society were gnawed from under it by rats. . . . The manorial system now broke down in large part because the shortage of manpower caused by the Black Death gave those workers remaining much greater bargaining power; they could become free laborers, earning the best price for their labor at all times. . . .